David Bourget
Department of Philosophy, Western University
Stevenson Hall, Room 3143
1151 Richmond St
London ON, N6A 5B8, Canada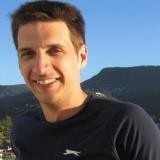 About me
I'm an assistant professor in philosophy and director of the Centre for Digital Philosophy at Western University (previously known as the University of Western Ontario). I obtained my PhD in philosophy at the Australian National University under the supervision of David Chalmers, Daniel Stoljar, and Frank Jackson. I also hold a BSc in computer science from l'Université Laval.
Philosophical research
My philosophical research revolves around two main projects. The first concerns the representational theory of consciousness and the role it can play in constructing a scientific explanation of consciousness. The second project investigates the role of consciousness in grounding meaning, concepts, and non-conscious mental states.
Computing projects
I'm involved in a number of computing projects that support research in philosophy:
PhilPapers: Online Research in Philosophy. David Chalmers and I launched PhilPapers in 2009. It's a search index and structured bibliography of philosophy books and articles with a number of crowd-sourcing features. I continue to maintain PhilPapers. Today, PhilPapers has over two million index entries, 6,000 bibliographies, 210,000 registered users, and 650 editors.
PhilArchive, the largest open access archive of philosophical works.
PhilEvents, a comprehensive calendar of events in philosophy worldwide.
PhilJobs, the most complete database of jobs in philosophy.
Digging by Debating, an interdisciplinary project to integrate visualization techniques, bibliometrics, automated analysis, and crowd-sourcing into a tool that will generate new insights into the philosophical literature (in progress)
PhilSurvey, a large scale follow up on the PhilPapers Philosophical Survey
My PhilPapers categories
PhilPapers categories I edit personally:
Links
My software on CPAN, including tools used as part of xPapers/PhilPapers
LyX, latex for people that don't like clutter or RSI
Vim, the best text editor